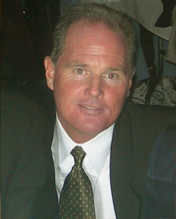 Tim O'Brien has spent his entire life in the sport of competitive diving at the world class level. During the span of nearly fifty years in diving, Tim has participated at every level of the sport as a diver, coach, judge, official, and television analyst.
He is the son of eight-time U.S. Olympic Coach Ron O'Brien; the most decorated and renowned coach in the sport. During his early years, Tim was a member of the Mission Viejo Nadadores, a team that recorded a record 38 U.S. National Championships. After graduation from Capistrano Valley High School in 1981, Tim received an athletic scholarship to the University of Miami where he received his degree in Business Management and Organization. While at UM, he was a two-time NCAA All-American diver, a finalist in the 1984 Olympic Trials and a member of two USA National Teams competing in international and world class competitions.
After his competitive diving career, he began a seventeen year coaching career as Head Coach and Director of Diving for the City of Fort Lauderdale. During his tenure, he coached two U.S. National Championship Teams, thirteen United States National Champions, two World Championship medalists and received the Mike Peppe Award in 1996 as the outstanding diving coach in the United States. In 1999 he received the USA Diving Award of Excellence and in 2000 was a Coach of the USA Team at the Olympic Games in Sydney, Australia. Tim served as Vice-President of USA Diving and currently serves as a judge for United States Diving, the Big Ten, SEC, PAC 12, NCAA Championships and is an analyst for diving events for USA Diving and FOX Sports.
Tim is currently the CEO of The O'Brien Companies and is active in the world of competitive diving as a judge and analyst. His love for the sport of diving drives his passion to provide his expertise in the awareness, education and prevention of diving related accidents and is his impetus for his relationship with AquaticLaw.com.